Greetings from CEO
Global Restaurant Business,Beginning of BORNGA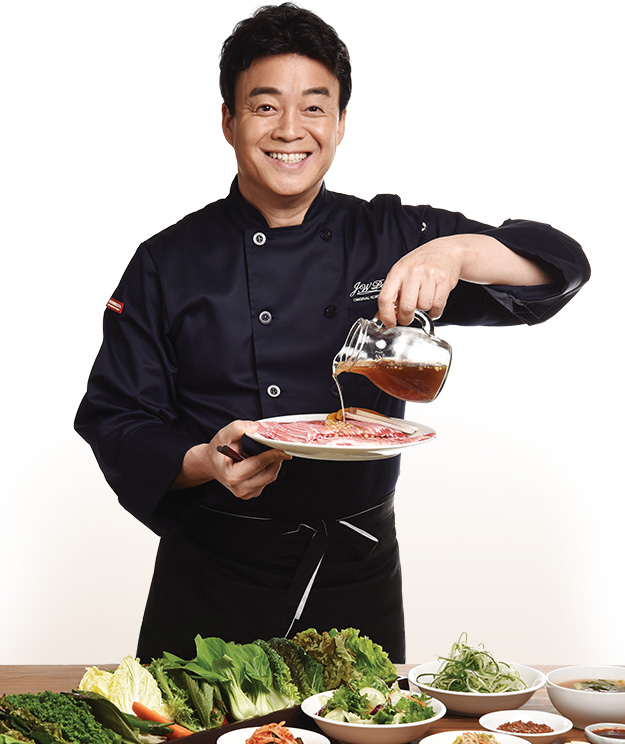 It had been always a pity for me that there had been no world-famous Korean dishes around the world, even though Korea is the country, where bulgogi (sliced and seasoned barbecued beef) is originated and charcoal barbecue is the popular menu for dining out.
I had long wished to develop the globalized version of Korean dishes, which cater to not only Koreans but also foreigners. That is why I started the restaurant, Bornga.
Most of all, in order to avoid foreigners' misunderstanding that dark aged bulgogi (sliced and seasoned barbecued beef) may be stale, not fresh, I developed Woo-samgyup by slicing the meat portion, which is not easily torn off, and marinating it.
Bornga serves the wide assortment of Korean dishes, including
Woo-samgyup. Bornga will always do its best to serve customers with authentic Korean dishes.
Bornga is the brand, which puts its basis on tastes!
I would like to extend our sincere gratitude toward our customers, who always have loved my restaurant, Bornga.
Paik Jong-won, Expert of restaurant management
Executive Chef CEO of The Born

Activities and Publications
2016
Appeared in tvN 'Mr. Paik The Homemade Food Master 2'
2016
Published 'Homemade Food Menu 54 Recommended by Mr. Paik
2015
Appeared in SBS 'Top 3 Chef King'
2015
Appeared in Olive TV 'Korean Food War 3' as a judge
2015
Appeared in tvN 'Mr. Paik The Homemade Food Master 1'
2015
Appeared in MBC 'My Little Teletvision'
2014
Appeared in Oliv e TV 'Korean Food War 2' as a judge
2014
Published 'Homemade Food Menu 52 Recommended by Mr. Paik
2014
Appeared in EBS 'Record of World Travel Atlas'
2014
Appeared in KBS 'Docu & Movie'
2013
Appeared in SBS 'Healing Camp, Aren't You Happy' '
2013
Published 'Paik Jongwon's Meat'
2013
Awarded by Ministry of the Interior
2012
CEO of THEBORN Japan
2011
Judge at Beijing International Cooking Contest
2011
Awarded Minister Award for Excellent Restaurant Franchise from the Ministry of Food, Agriculture, Forestry, and Fisheries'
2010-2011
Co-MC of SBS 'Real Taste of Korea'
2016
Appeared in tvN 'Mr. Paik The Homemade Food Master 2'
2010
Published 'Professional Restaurant Where Even Rookie Can Make Lots of Profit'
2010
Published 'Small Restaurant that Will Absolutely Succeed'
2009
Published 'Paik Jongwon's Secret Restaurant Recipe'
2008
CEO of TEHBORN America
2016
Appeared in tvN 'Mr. Paik The Homemade Food Master 2'
2005
CEO of TEHBORN China
2004
Published 'Money Making Restaurants, There is Secret to It"
1993
CEO of THEBORN Koream